There is hardly anyone who hasn't loved the famous Dr Aasthana from Munna Bhai MBBS and Virus from 3 Idiots movies, both the roles played by Boman Irani. It is a real irony that Boman Irani was mocked in his childhood for lisp speeches, is been loved and celebrated now when he enacts the same in his movies.
The challenges Mr. Boman Irani has faced do not end there. Please find the account of his motivational life below,
Boman Irani lost his father when he was still in his mother's womb and had a very normal upbringing
Medical ailments, namely Dyslexia, Attention deficit hyperactivity disorder, and Lisp troubled Boman Irani in his normal day to today functioning and few mocked his conditions as well
Boman Irani used to be completely quiet in school and constant remark from teachers was he was 'reticent'
Boman Irani started his career as a room service boy in Taj Hotel and then got promoted to become a waiter
Boman Irani's mom used to send him to watch movies often, as he wasn't doing great at school
Boman Irani started managing his mom's Irani Restaurant and used to make and sell potato chips and tea
Challenges faced during a family trip to Ooty made him decide that he will take control of his life
He had to work for free to earn the official photographer badge for World Boxing Championship in Mumbai and eventually that event turned out to be a game-changer for him
Boman Irani opened a photo studio of his own after working for another photographer for about 4 months.
Boman Irani's first theatre role was that of a 'Pimp' and the roles he played went on to becoming quite successful
Vinod Chopra offered the role in Munna Bhai MBBS, which Boman Irani rejected initially and then accepted after meeting Raju Hirani. The rest is history and Boman has gone on to entertain the audience with one after another movie with his mesmerizing acting.
Best Motivational Quotes of Boman Irani: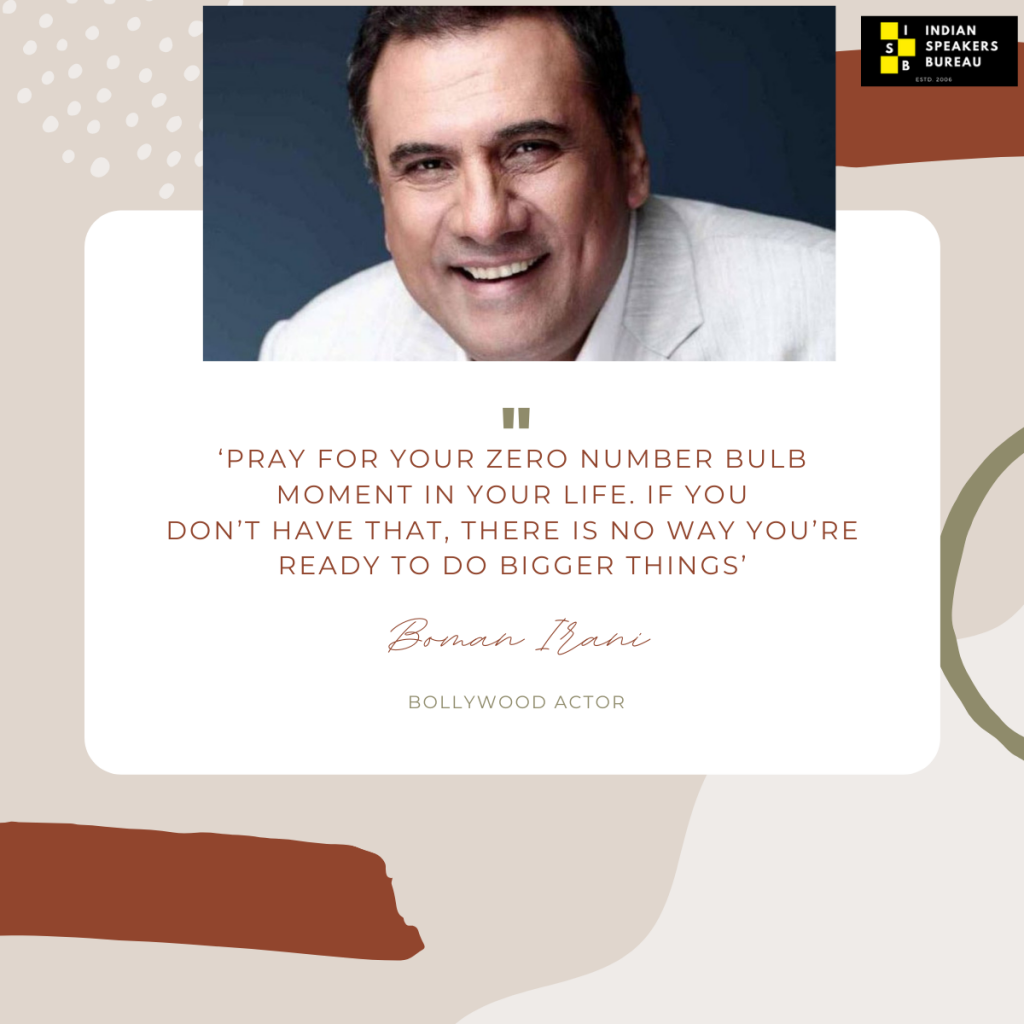 'Pray for your Zero Number Bulb Moment in your life. If you don't have that, there is no way you're ready to do bigger things' – Boman Irani
'Don't blame your failures on someone else. You're completely responsible for success or failure of your life' – Boman Irani
'Don't ruin your success by being obnoxious, by believing that you're indestructible and by thinking that the World cannot turn it's back on you' – Boman Irani
'Work for the man in the mirror and not just for the adulation' – Boman Irani
'Turn your weaknesses into your strengths, just like I was mocked for lisp in my childhood and it got me lot of fanfare for enacting it in 3 idiots' – Boman Irani
Off late, he has been using social media effectively to motivate people.
We hope Boman Irani's life inspired you and you can make him part of your events and conferences. To invite him, mail lets.speak@speakin.co or call +919810735754